The Digital Summit features digital leaders from the worlds of government and industry.
Please see below for 2022 participants
Catherine Luelo
Chief Information Officer, Government of Canada 
Catherine Luelo is a Deputy Minister at the Treasury Board of Canada Secretariat and the Chief Information Officer of Canada.
Prior to her appointment as CIO in July 2021, Catherine was the Senior Vice President and Chief Information Officer at Air Canada, where she was responsible for the Information Technology systems that support and enable Air Canada's global business. In this role, she additionally led innovation in the artificial intelligence space while managing the security and reliability of Air Canada's worldwide systems in an operational landscape that substantially shifted during the global pandemic.
From 2001-2017, Catherine held senior management and executive roles at major Canadian companies, including Enbridge Inc., WestJet Airlines Ltd., and TELUS Communications.
Catherine holds an MBA from Athabasca University in Alberta and a BSc from the University of Alberta.
From 2018-2021, she served on the Board of Directors for scale ai, the Montreal-based Artificial Intelligence (AI) supercluster that aspires to increase competitive advantage for Canada globally in AI . She has also served as a Board Member for Creative Destruction Labs, as well as serving as Chair for Health Canada's Industry Advisory Roundtable on COVID-19 Testing, Screening, Tracing and Data Management.
Catherine is a proud mother of two children and is a fierce advocate for mental health. In March 2020, she was appointed to the Board of Directors for the Center for Addiction and Mental Health (CAMH) Foundation and participates regularly as a panelist and speaker on Mental Health in the workplace.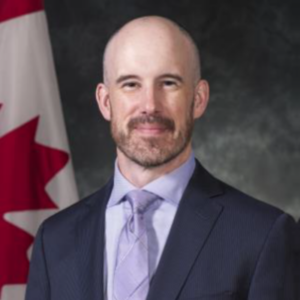 Stephen Burt
Assistant Deputy Minister, Data, Innovation, Analytics, Canada
Mr Burt has 23 years experience in the Public Service, including Revenue Canada, the Privy Council Office, National Defence and most recently as Assistant Chief of Defence Intelligence at Canadian Forces Intelligence Command, before joining Data, Innovation, Analytics in July 2018.
Linda Karçanaj
Director General, National Agency of Information Society, Albania
Linda Karçanaj was born in Tirana, Albania, to a family of honored professors of their time. The daughter of one of the most prominent professors of mathematics, Mr. Agim Karçanaj, author and co-author of mathematics textbooks and curricula applied in university, national and international Olympiads. She studied Computer Science and earned both BA, MA and PhD degrees from the University of Tirana, with excellent results. Being that she graduated with honors, she got appointed as a full-time lecturer of Information and Communication Technology subjects at the Faculty of Natural Sciences, University of Tirana for 6 years. Simultaneously, she was working as a programmer, database manager and IT expert for various international organizations, projects and local companies. During this time, she also attended various trainings in algorithm and IT in France and Germany. Upon moving to Canada, Ms. Karcanaj worked for 5 years as an IT manager for local private companies in Ontario, managing data processing and analytics and providing expertise and IT solutions in operational work processes.
After returning to Albania, Mrs. Karçanaj held the position of Director of Information Technology in the Municipality of Tirana for 4 years, being the initiator of the integration of ICT in the local government administration. In this period, she led the digitalization of work processes in the largest municipality of Albania.
Further on, she returned as a full-time lecturer of ICT subjects, at the Faculty of Economics, University of Tirana for 3 years. For the past 9 years, Mrs. Karçanaj has led the Albanian National Agency of Information Society, holding the position of the General Director. She has successfully implemented the digital revolution of transforming public services through the e-Albania governmental platform. Today, 95% of public services are provided online-only through the e-Albania platform, changing the mindset and means of access between the citizens and state institutions, emphasizing the importance of digitalization of services and the modernization of public administration. Mrs. Karcanaj has shown her leadership and managerial skills in the design of integrated systems in education, e-Health, transport, consular services, tax and customs services for businesses, thus improving citizens' quality of life by saving them time and money in reduced costs and fees. She has continually led investments in developing electronic systems, digitalizing physical archives, improving physical infrastructures, equipping the relevant stakeholders with an electronic seal or signature, etc.
Currently, Ms. Karçanaj is committed to paving the way for implementation of emerging technologies in public administration such as cloud computing, artificial intelligence, big data and analytics and blockchain. Her upcoming challenges include implementing plans on fostering a community of programmers with state-of-the-art training in Albania, thus addressing the lack of professional workforce and helping the youth obtain ready for-the-job skills. Under the administration of Mrs. Karçanaj, NAIS has been internationally praised by the United Nations, the European Union, the US Department of State, ReSPA and the Organization for Economic Co-operation and Development (OECD) for the success of digital governance, making Albania a leader in the region.
Ferdinand Scheidbach
Head, Directorate of eGovernment Federal Government and Public Administration, Federal Ministry for Digital and Economic Affairs, Austria
Currently Ferdinand is the Head of Directorate I/B and Head of Department I/B/6 E-Government at the Federal Ministry for Digital and Economic Affairs. Prior to holding this position Ferdinand has a long record of employment dealing with e-government in the public sector:
Employer: Federal Ministry for Digital and Economic Affairs, Office of the Secretary General, Vienna
Employer: Federal Chancellery, Department I/8 Cyber Security, Vienna.
Employer: Federal Ministry for Digital and Economic Affairs, III/4 Digital and E-Government – Law, Strategy and International Affairs, Vienna
Employer: Department IT (Information Technology, Digital Society and Cybersecurity; IT Director), Federal Ministry of the Interior, Berlin
Employer:  Federal Chancellery, Department I/11 Digital and E-Government – Law, Strategy and International Affairs and Department for International Affairs, Vienna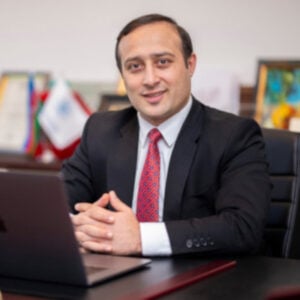 Fariz Jafarov
Director, E-Gov Development Center, Azerbaijan
Mr. Fariz T. Jafarov is the Director of the E-Gov Development Center subordinate to the State Agency for Public Service and Social Innovations under the President of the Republic of Azerbaijan since its establishment in March 2018. He is at the forefront of the digitization processes and public sector innovations in the Republic of Azerbaijan. Currently, his position brings together more than 230 employees and the Center has achieved more than 50 projects to date.
He previously headed the Center for Monitoring at the State Agency for Public Service and Social Innovations under the President of the Republic of Azerbaijan from 2017 to 2018. Jafarov also worked as the Deputy Head of the Department of e-Services Development and Social Innovations at the same Agency, where he got extensive insight into digital transformation in Azerbaijan from 2013 to 2017. Prior to those, he started his career as the Strategic Management Specialist at the Department of Strategic Management of the Central Bank of the Republic of Azerbaijan.
Fariz Jafarov holds Master's in Business Management from the Webster University in London, Master's in Project Management from the University of George Washington, and the Master's in Adaptive Strategy Management from the Duke University –The Fuqua School of Business. He obtained his Bachelor's degree in Public and Municipial Administration from the Academy of Public Administration under the President of the Republic of Azerbaijan in 2008.
He has an extensive experiece in digital transformation and the implimentation of artificial intelligence in public sevices. He is the Member of the Committee on Artificial Intelligence (CAHAI) in Strasbourg, France, an initiative by the Council of Europe; United Nations Digital Government Expert; Former Curator of Global Shapers Community's Baku Hub, an initiative of the World Economic Forum; Member of the working group on evaluation of state information systems; Member of the working group on e-government (Members consist of leaders of all government agencies).
He is fluent in Azerbaijani, English, Turkish, Russian and speaks French.
Jeyhun Salmanov
Deputy Chairman, State Agency for Public Service and Social Innovations, Azerbaijan
Jeyhun Salmanov studied Bachelor`s degree on Economic Cybernetics in Baku State University during 2004-2008, and he received his Master's degree on Business Administration (MBA) from Azerbaijan State Oil and Industry University and Georgia State University in 2008-2010 period. He received his second master's degree in Information Systems and Digital Innovation Management from the London School of Economics and Political Science (LSE) in 2015-2016.
During 2010-2012, Mr. Salmanov worked as a Specialist at the State Finance Department of the Ministry of Finance. From November 2012 until August 2013, he worked as the Head of Strategic Research Sector of the Department of Social Innovations and Strategic Research at the State Agency for Public Service and Social Innovations under the President of the Republic of Azerbaijan (SAPSSI). Within August 2013- March 2019, Jeyhun Salmanov was the Head of Electronic Government and Digital Innovations Department of SAPSSI.
Then he was appointed to the position of Advisor to the Chairman of SAPSSI. Mr. Jeyhun Salmanov was later appointed as the Deputy Chairman of the State Agency for Public Service and Social Innovations under the President of the Republic of Azerbaijan on 18th March 2019.
He has been awarded with the medal "For Civil Service Honors" by the Order of the President of the Republic of Azerbaijan dated December 27, 2018.
Eliana Cardoso Emediato de Azambuja
General Coordinator of Digital Transformation, Department of Science, Technology and Digital Innovation, Ministry of Science, Technology and Innovation, Brazil
Eliana Cardoso Emediato de Azambuja is the General Coordinator of Digital Transformation of the Department of Science, Technology and Digital Innovation, Secretariat of Entrepreneurship and Innovation of the Brazilian Ministry of Science, Technology and Innovations – MCTI. She is a Business Administrator, specializing in Technological Management from JUSE – Union of Japanese Scientists and Engineers – Tokyo, Japan, PennState University – Pennsylvania, USA and Executive Program at Singularity University in Santa Clara, California, USA. 
At MCTI, she coordinates the activities of the Brazilian Strategy for Digital Transformation -EDigital. She is responsible for the Executive Secretary of the Brazilian Chamber of Industry 4.0, the Chamber of Smart Cities, the Agro 4.0 Chamber, the Digital Health Chamber, the Tourism Chamber as well the Governance Committee of the Brazilian Artificial Intelligence Strategy. She also coordinates with business, government and academic sectors to build common agendas to promote digital transformation in Brazil.
Karina Domingos Bressan Vidal
Sciences and Technology Analyst, Office of the General Coordinator of Digital Transformation, Department of Science, Technology and Digital Innovation, Ministry of Science, Technology and Innovation, Brazil
Karina Domingues Bressan Vidal is a Sciences and Technology Analyst of the General Coordination of Digital Transformation, Secretariat of Entrepreneurship and Innovation of the Brazilian Ministry of Science, Technology and Innovations – MCTI.
She holds PhD in Science Education; Master's in Knowledge Management and Information Technology; Electrical Industrial Engineer e Bachelor in Mathematics Applied to Computer Science; Project Management Professional (PMP).
At MCTI, she works with activities at Brazilian Digital Transformation Strategy (E-digital); Brazilian Artificial Intelligence Strategy (EBIA); Internet of Things (IoT) Plan; and with Thematic Chambers 4.0 (Industry, Smart Cities, Agro, Health and Tourism).
Dr Stelios Himonas
Permanent Secretary, Deputy Ministry of Research, Innovation and Digital Policy, Cyprus
Stelios Himonas is the Permanent Secretary of the Deputy Ministry of Research, Innovation and Digital Policy.
He previously served as Permanent Secretary of the Ministry of Energy, Commerce and Industry, Permanent Secretary of the Ministry of Justice and Public Order, as well as Director of the Department of Electronic Communications and Director of Telecommunications at the Ministry of Communications and Works.
From 2012 onwards, he has been appointed from the Council of Ministers as Digital Champion of the Republic of Cyprus, while having previously served as member of the Board of Directors of the Research and Innovation Foundation (then called Research Promotion Foundation), and the Cyprus Telecommunications Authority (Cyta).
At European level, he served as Vice-Chairman of the Electronic Communications Committee (ECC) of the European Conference of Postal and Telecommunications Administrations (CEPT), as well as Chairman of the Regulatory Affairs Working Group (WGRA) of the CEPT/ECC.
He is a holder of Bachelor of Engineering, Master of Science and PhD in Electrical Engineering from the State University of New York in Stony Brook. From 1989 until 1997, he was an Associate Professor at the Department of Electrical Engineering at the New York Institute of Technology, USA, having also served as a Professor of Engineering and Informatics of Intercollege, Cyprus. From 1994 until 1997, he was collaborating with the Multimedia Communications Research Group of Bellcore's Applied Research Division in Morristown, New Jersey, USA.
Dr. Himonas has published numerous research papers in scientific journals and conference proceedings in the fields of detection and multimedia communications. He is listed in the Who is Who in the World, Who is Who in American Education and Who is Who Among Human Services Professionals.
Bennette Thomas
Director of Telecommunications and Broadcasting, Ministry of Telecommunications and Broadcasting, Commonwealth of Dominica
Mr. Thomas has over twenty-five years' experience in the Telecommunications Industry having worked  at  senior management level in a number of leading telecommunication service companies in the Caribbean including Cable & Wireless (now called LIME) and Digicel. Mr. Thomas worked as Regional Operations Manager for Digicel Southern Caribbean having responsibility for over nine (9) countries as well as Assistant Manager Operations for LIME Dominica before taking up the position of Director of Telecommunications for the Government of Dominica with responsibility for Telecommunications and Broadcasting.
He has worked as a government telecommunications Regulator having been guest speaker at a number of regional telecommunications seminars and meetings. He has been the lead Regulator for the Company, Marpin Telecommunications in its landmark ruling against Cable & Wireless West Indies on the breaking of the monopoly in Telecommunications for the region.
Mr. Thomas is presently the Director of Telecommunications for the Government of the Commonwealth of Dominica, government's representative on the Government Advisory Council (GAC) of ICANN, Chairman of the CARICOM's Technical Advisory Group and senior partner in a Caribbean Software Development Company. He is a trained engineer and holds a Masters in Application Development and certifications in Cybersecurity from DiploFoundation.
Abiyot Bayou
Director General, Digital Transformation Program Office, Ministry of Innovation and Technology, Ethiopia
Currently Abiyot Bayou (PHD) is  a Lead  at  the National Digital Transformation Program Office of  the Ethiopian Ministry of Innovation and Technology.  He has received his  PhD in Information and Telecommunication Technology Management from Korea Advanced Institute of Science and Technology, Post Graduate Diploma in Knowledge Economy Leadership form Dublin City University, and MSC & BSC in Information Science from Addis Ababa University. He has also received various professional Certificates including Certificates in Digital Financial Management from Tufts University ; Innovation & Leadership from Harvard University ,Kennedy School of Government;  Certificate in Project Management from NTTP Japan. 
Before his current position Abiyot has  served as Director General of Addis Ababa City Government Science and Technology Agency (Formerly ICT Development Agency), Director of electronic Government Directorate under the former Ethiopian Ministry of Communication and Information Technology. He has  led and participated in drafting and implementing various National digital  Strategies and policies including the National Information and Communication Policy , The National e-Government Strategy, Digital Transformation Strategy, and e-transaction and Strat Up proclamations . He has also  led several National IT projects including the Expansion of the Ethiopian Government Network Infrastructure (WoredaNet) and the Deployment of the National Electronic Service Portal.  
Christina Lang
Chief Executive Officer, Digital Service, Germany
Christina Lang is co-founder and CEO of the DigitalService, the internal digitalization unit of the Federal Government of Germany. Providing interdisciplinary product teams, the DigitalService builds user-centered digital public services together with the government. It also drives the digital transformation of public administration through the fellowships Tech4Germany and Work4Germany. In spring 2020, she initiated the #WirVsVirus hackathon of the German Government as a national, coordinated covid response effort. Before founding the DigitalService in 2019, Christina worked at the Federal Foreign Office and as a strategy consultant at McKinsey & Company. She is a trained lawyer and holds a Management degree from London Business School.
Kevin Cunnington
Former Director General, Government Digital Service (GDS), United Kingdom, and Expert Advisor, Global Government Forum
Kevin was Director General of the International Government Service and Digital Envoy for the UK from August 2019, until April 2021. Prior to that, he was the Director General of the Government Digital Service from August 2016 to July 2019. Kevin left the UK Civil Service in April 2021.
Kevin has led a variety of large scale, and global, digital transformation programmes. He spent his early career in programming and IT consultancy. More recently he was the Global Head of Online for Vodafone Group and Business Transformation Group Director General at the Department for Work and Pensions (DWP).
Kevin now advises Global Government Forum, and leads the Global Government Digital Leaders' Study. 
Andri Heiðar Kristinsson
Chief Executive Officer, Digital Iceland, Ministry of Finance and Economic Affairs, Iceland
Andri Heiðar Kristinsson is the CEO of Digital Iceland, a cross-functional unit within the Ministry of Finance and Economic Affairs, tasked with leading the digital transformation across the Icelandic government. Mr. Kristinsson is a product and technology visionary with over two decades of experience working in technology and entrepreneurship in Europe and Silicon Valley.
Prior to joining Digital Iceland, Andri was a product lead at LinkedIn in San Francisco and a product manager for SlideShare's mobile apps. Andri also served as the CEO of Travelade, a travel technology startup, as well as the founder and CEO of Icelandic Startups, the leading startup accelerator in Iceland. Andri holds a B.Sc. in electrical and computer engineering from the University of Iceland and an MBA from Stanford University.
Nazgul Bazhayeva
Director, Digital Transformation Department, Ministry of Digital Development, Innovations and Aerospace Industry, Kazakhstan
Nazgul contributed to a variety of important and impactful projects, including the development of e-government, the creation of the state corporation "Government for Citizens, as well as the implementation of the state program "Digital Kazakhstan" from 2008 to 2019.
During 2018-2019. a member of the Board of Directors of Zerde National Infocommunication holding JSC.
During 2019-2020, Nazgul Bazhayeva was a Digital Ambassador in San Francisco, USA. She represented the Republic of Kazakhstan in diplomatic meetings with international partners, companies and investors.
Nazgul Bazhayeva graduated from Boston University, USA, where she received master's degree in computer information systems.
Nazgul Bazhayeva received several honors, including: a certificate of honor awarded as a badge from the First President as the «best civil servant»; and also a certificate of honor from the Deputy Prime Minister of the Republic of Kazakhstan for organizing the international innovation forum «Digital Bridge».
Herve Barge
Chief Executive Officer, Agence eSante, Luxembourg
Since 1 July 2012, Hervé Barge holds the position of Managing Director of the Agence eSanté, the Luxembourg national agency for shared health information.
Before moving to Luxembourg, Hervé was Director of the Health Information System (SIS) – Telemedicine at the Regional Health Agency of Franche-Comté. A specialist in medical engineering, Hervé Barge joined the ARH of Franche-Comté in 2000, where he was responsible for regional information systems and telemedicine projects for over 10 years. During this period, he was involved in various university diplomas at the Faculty of Medicine in Besançon (pediatrics, emergencies, neurology, pharmacy), as well as at the ISIFC (Biomedical Engineers) and Centrale Santé Paris. He is an expert in information sharing and exchange in the health sector and has set up technical and functional structures to run the regional network in an urbanised approach.
Since 2018, Hervé Barge has been appointed as an expert to the Health Working Group of the Economic and Social Committee of the Greater Region.
Àstrid Desset
Director General, Open Administration Consortium, Open Government of Catalonia (Spain)
Astrid is the Director General of the AOC (Open Administration of Catalonia), a public consortium integrated by local, departmental and regional administrations in Catalonia, whose mission is to accelerate the digital transformation in public sector, creating digital and interoperable common services and promoting the use of digital identity, electronic signatures and efficient exchange of data and documents.
She has a degree in Computer Engineering and a Postgraduate degree in Electronic Administration and Open Government. She believes in continuous training as a means of personal and professional growth. So, she is currently achieving a Master in Innovation and Digital Transformation at the Open University of Catalonia.
She spent her early career working in the ICT sector, starting as a salaried employee, then creating a small computer services company and, finally, developing eGovernment, Datawarehouse and Business Intelligence solutions in the public sector.
Alison Pritchard
Deputy National Statistician for Data Capability, Office for National Statistics, United Kingdom
Alison is leading the transformation in data usage which will see ever more integrated data put to effective and safe use across the private and public sectors. She ensures ONS has the right technology and skills to meet its ambitious goals in data analytics and data science and champions safe and secure data sharing for the public good in ONS and beyond.
Most recently Alison was Director General of the Government Digital Service leading the organisation through a busy and critical period. And before that, she was Director of Transformation at the Department for the Environment, Food and Rural Affairs.
She began her Civil Service career in 1987. She has worked across a range of departments including the Ministry of Defence, HM Treasury, Cabinet Office, Home Office and the Department for Culture, Media and Sport.
Her career has seen her enjoy a varied and interesting range of roles, including: spending five years in Saudi Arabia with a UK defence programme; leading the independent review of Royal Family and ministerial air travel; and being responsible for gambling and the National Lottery.
Outside government, Alison has experience as Head of Operations for an IT engineering business and on secondment to the third sector as Director of Programmes for a multi-faith research body supporting counter-radicalisation.
Mark Robinson
Director of Technology, Ministry of Justice, United Kingdom
Mark joined the Ministry of Justice Digital and Technology Team in late 2019 having spent the rest of his career in the private sector.  At the MoJ Mark leads a team of around 350, delivering intuitive workplace technology services to 85,000 users across 1000 sites.  As well as staff facing services, Mark's team are working to provision infrastructure and digital services to an increasing number of prisoners in their cells delivering operational efficiencies, increasing staff's positive engagement time with prisoners and young people by removing administrative activities, improving prisoner well-being and increasing prospects of rehabilitation and reducing reoffending.
Before joining the Civil Service Mark worked across a number of different sectors including Media and Transportation. 
At Cubic Transportation Systems Mark was Head of IT Infrastructure where he had responsibility for the platforms and systems that underpinned many of Transport for London's Payment Technology Systems such as Oyster, Contactless payments, and ticket machines and gates. 
At Red Bee Media Mark was responsible for the global IT infrastructure used to prepare, manage, broadcast, stream and distribute content for many of the best known media brands, including BBC, Channel 4, BT Sport, Disney, Canal+, TV4.
Mark has an Executive MBA from Henley Business School.
Megan Lee
Chief Strategy and Transformation Officer, Government Central Digital & Data Office, United Kingdom
Megan is the Chief Strategy & Transformation Officer in the Central Digital and Data Office, the head of the Digital, Data and Technology function for the UK Government. Within CDDO, Megan leads the Strategy and Analysis, Performance and Assurance and Transforming Government Services teams, putting the right conditions and capabilities in place to drive digital transformation at scale in Government.
Megan joined the Cabinet Office from McKinsey, where she led day-to-day management of consulting teams across both public sector and private sector organisations on technology, analytics and organisational transformation topics.
Ann Dunkin
Chief Information Officer, Department of Energy, United States of America
Ann Dunkin is currently the Chief Information Officer of the US Department of Energy.  Before joining DOE she was Chief Strategy and Innovation Officer for State and Local Government at Dell.  Prior to joining Dell, Ms. Dunkin was the CIO for the County of Santa Clara. Ms. Dunkin also served in the Obama Administration as the Chief Information Officer of the United States Environmental Protection Agency and as Chief Technology Officer for the Palo Alto Unified School District. She also held a variety of leadership at Hewlett Packard.  Ms. Dunkin is a published author, most recently of the book Industrial Digital Transformation, and sought-after speaker on the topics of technology modernization, digital services and organizational transformation. Ms. Dunkin holds an M.S. and a B.S. in Industrial Engineering, both from the Georgia Institute of Technology. She is a licensed professional engineer in California and Washington.
Vyjayanti Desai
Practice Manager, Digital Development, World Bank Group
Vyjayanti Desai is the Practice Manager for the World Bank's Identification for Development (ID4D) and Digitizing Government to Person Payments (G2Px) initiative, two global, multi-sectoral initiatives. These initiatives support progress towards trusted and inclusive identification systems and digitization of G2P programs with broader financial and social inclusion goals, women's empowerment, and greater individual agency. These initiatives supports clients with advice and financing in over 50 countries, advances thought leadership on digital identity and G2P, and accelerates global public goods with other partners.
Vyjayanti Desai is also Practice Manager of the Digital Development Global Practice in South Asia, where she manages a team working and overseeing a portfolio of work in the South Asian region aimed at closing the digital divide for client countries and harnessing the potential of digital transformation.
Vyjayanti joined the World Bank Group in 2000 and has worked on a range of private and financial sector development programs across both the World Bank and IFC advisory and across several regions — Africa, East Asia, and South Asia. The programs she has led, working with client countries, have spanned topics of small and medium enterprise development (SME), competitiveness and innovation, digital development, investment climate policy and regulatory reforms, and access to finance. Within the WBG, she has led and shaped many multi-disciplinary and institution-wide programs, actively working to develop a unified agenda and designing integrated multi-sectoral solutions to these pressing development challenges. Prior to joining the World Bank Group, Vyjayanti worked at Deloitte Emerging Markets, where she provided consulting services to clients on private and financial sector development
Rajendra Kumar
Additional Secretary of e-Governance, Electronics and Information Technology, Ministry of Electronics and Information Technology, India
Biography to be updated soon.
Subject to government approval.
Saurabh Garg
Chief Executive Officer, Unique Identification Authority of India (UIDAI), Ministry of Electronics and Information Technology, India
Biography to be updated soon.