Participants 2022
The Digital Summit features digital leaders from the worlds of government and industry.
Please see below for 2022 participants
Catherine Luelo
Chief Information Officer, Government of Canada 
Catherine Luelo is a Deputy Minister at the Treasury Board of Canada Secretariat and the Chief Information Officer of Canada.
Prior to her appointment as CIO in July 2021, Catherine was the Senior Vice President and Chief Information Officer at Air Canada, where she was responsible for the Information Technology systems that support and enable Air Canada's global business. In this role, she additionally led innovation in the artificial intelligence space while managing the security and reliability of Air Canada's worldwide systems in an operational landscape that substantially shifted during the global pandemic.
From 2001-2017, Catherine held senior management and executive roles at major Canadian companies, including Enbridge Inc., WestJet Airlines Ltd., and TELUS Communications.
Catherine holds an MBA from Athabasca University in Alberta and a BSc from the University of Alberta.
From 2018-2021, she served on the Board of Directors for scale ai, the Montreal-based Artificial Intelligence (AI) supercluster that aspires to increase competitive advantage for Canada globally in AI . She has also served as a Board Member for Creative Destruction Labs, as well as serving as Chair for Health Canada's Industry Advisory Roundtable on COVID-19 Testing, Screening, Tracing and Data Management.
Catherine is a proud mother of two children and is a fierce advocate for mental health. In March 2020, she was appointed to the Board of Directors for the Center for Addiction and Mental Health (CAMH) Foundation and participates regularly as a panelist and speaker on Mental Health in the workplace.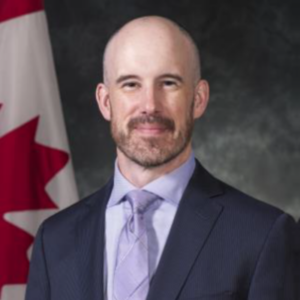 Stephen Burt
Chief Data Officer, Government of Canada
In March 2022, Stephen Burt was appointed Chief Data Officer for the Government of Canada, at the Treasury Board Secretariat.  His mandate is to provide leadership across government on information and data governance and integration, privacy modernization, and data-enabled digital services and programs.  
Prior to this appointment, Mr. Burt was the functional authority for data governance and analytics capability for the Department of National Defence and Canadian Armed Forces (DND/CAF).  He drove the analytics adoption and maturity throughout DND/CAF, and led the department-wide initiative to establish analytics and data governance.
Mr. Burt began his career in the Government of Canada in 1997 with Revenue Canada.  In 1999, he joined DND, where he worked in a variety of policy, operational and defence intelligence roles, including two years as Executive Assistant to the Deputy Minister.
Mr. Burt moved to the Privy Council Office (PCO) in 2007 to work in the Security and Intelligence Secretariat as Senior Advisor on National Security.  In that role, he was secretary for the committees of the National Security Advisor to the Prime Minister.  In 2009, he joined the Intelligence Assessment Secretariat (IAS) at PCO, and held positions as Director for Afghanistan and, later, for Asia.  Mr. Burt was appointed Director of Operations for the IAS in January 2012, and took on the position of Assistant Secretary on an acting basis in March 2014.
In April 2015, Mr. Burt assumed the role of Assistant Chief of Defence Intelligence at Canadian Forces Intelligence Command, where he led the federated production of intelligence within DND/CAF, and oversaw defence intelligence policy.
Mr. Burt has an undergraduate degree in history from the University of Ottawa, as well as a Master's in Public Administration from Queen's University in Kingston, Ontario.
Kalyan Chakravarthy
Chief Information Officer, Regional Municipality of Durham (Canada)
Kalyan Chakravarthy (KC) is Chief Information Officer for the Regional Municipality of Durham. In this position he is responsible for establishing and implementing a long-term technology strategy for the Region. KC has over 20 years of experience in private, public and not-for-profit sectors. He worked with GE, IBM, Toronto International Film Festival & AGCO before joining the region of Durham. He graduated his MBA from Smith School of Business and did a certificate course on Artificial Intelligence from MIT. Currently he also teaches Data Analytics and AI courses at Durham College.
Yvan Gauthier
Head, Artificial Intelligence Accelerator, Data Analytics Centre, Digital Technologies, National Research Council, Canada
Yvan Gauthier is a senior data scientist with the National Research Council's Digital Technologies Centre and leads the NRC AI Accelerator for the Government of Canada, which delivers AI solutions to other federal departments and agencies and supports them in their digital transformation. Before, he worked for 20 years as a defence scientist with the Department of National Defence (DND), where he became the first-ever Director of Data Science and established a new enterprise data science team supporting DND's Chief Data Officer. He also chaired a NATO Specialist Team on Advanced Analytics and AI and has led several operational research projects while being embedded with various parts of DND and the Canadian Armed Forces.
Brandon Lee
Director General,  Grants and Contributions Transformation Bureau, Global Affairs Canada, Canada
Brandon was appointed to oversee the relationship between Canada and the U.S. as Consul General of Canada in San Francisco and then also in Seattle and was Canada's Ambassador to Silicon Valley.
Brandon has a strong background both as an executive and leading innovation, and he has held several executive positions with national and international governments. From 2007 to 2011, he oversaw global reform activities to strengthen Canada's international presence and became the Department's first Director of Innovation.  From 2012 to 2014, Mr. Lee held senior positions at the World Trade Organization and the International Committee of the Red Cross (both in Geneva), spearheading major organizational and international reform initiatives.
Mélanie Scott
Chief Information Officer and Assistant Chief Statistician, Digital Solutions Field, Statistics Canada, Canada
Mélanie Scott is the Chief Information Officer (CIO) and Assistant Chief Statistician (ASC) of the Digital Solutions Field at Statistics Canada. She holds a Bachelor of Computer Science from the University of Sherbrooke and an Executive Master of Business Administration from the University of Ottawa.
Prior to her current role, Mélanie was the Assistant Deputy Minister of the Digital Services Branch at Shared Services Canada (SSC), where she oversaw digital services that improved workplace communication, collaboration and mobility, and provided workplace tools and technology at the enterprise level, while delivering improved value for Canadians. Prior to that, she provided leadership in key areas of IT security, data management business relationships and partnerships, and IT operations in various director and director-general roles at the Communications Security Establishment Canada, and Library and Archives Canada.
She is the recipient of several prestigious awards, including: the Governor General's Academic Medal of Canada for the University of Sherbrooke, the 2016 Excellence of Service Award from Library and Archives Canada for Excellence in Service Delivery, and the 2016 SSC Award of Excellence for Collaboration and Organizational Improvement.
Hillary Hartley
Chief Digital and Data Officer and Deputy Minister, Ontario Digital Service, Ontario Public Service (Canada)
Hillary Hartley is Ontario's Chief Digital and Data Officer and became Deputy Minister of Digital Strategy within Cabinet Office in June 2022. As CDDO, she is responsible for the administration of the Simpler, Faster, Better Services Act to deliver better, more easily accessible services to the people, communities, and businesses of Ontario.
Hillary was previously the head of the Ontario Digital Service, joining the province in April 2017 as Deputy Minister Responsible for Digital Government. She also served as Deputy Minister of Consumer Services, which included the government's retail services operation (ServiceOntario), and programs focused on consumer protection.
Prior to coming to Ontario, Hillary was the Deputy Executive Director of 18F, a digital services agency in the U.S. federal government, and was a Presidential Innovation Fellow in 2013. She has worked with governments across jurisdictions for twenty-five years, serving as a director at NIC Inc., an organization that helps governments deliver programs and services online.
Ferdinand Scheidbach
Head, Directorate of eGovernment Federal Government and Public Administration, Federal Ministry for Digital and Economic Affairs, Austria
Currently Ferdinand is the Head of Directorate I/B and Head of Department I/B/6 E-Government at the Federal Ministry for Digital and Economic Affairs. Prior to holding this position Ferdinand has a long record of employment dealing with e-government in the public sector:
Employer: Federal Ministry for Digital and Economic Affairs, Office of the Secretary General, Vienna
Employer: Federal Chancellery, Department I/8 Cyber Security, Vienna.
Employer: Federal Ministry for Digital and Economic Affairs, III/4 Digital and E-Government – Law, Strategy and International Affairs, Vienna
Employer: Department IT (Information Technology, Digital Society and Cybersecurity; IT Director), Federal Ministry of the Interior, Berlin
Employer:  Federal Chancellery, Department I/11 Digital and E-Government – Law, Strategy and International Affairs and Department for International Affairs, Vienna
Soltan Bayramov
Deputy Director, E-Gov Development Center, Azerbaijan
Mr Soltan Bayramov is Deputy Director of the E-Gov Development Center subordinate to the State Agency for Public Service and Social Innovations under the President of the Republic of Azerbaijan. He is an accomplished business development professional with a proven record of accomplishment in managing business activities in G2B, G2C, B2C & B2B environments. He is experienced in a diverse range of business fields, primarily within innovations management, and business consultancy. Mr Bayramov`s primary specialties include, but are not limited to digital transformation, public relations and partnership management, corporate strategy development, and product development.
He owns bachelor`s degree and master`s degree both from University of Wales, Cardiff in business management during 2004-2009.
Mr Bayramov is certified senior project manager (Level B) of the International Project Management Association (IPMA). He holds professional certificate in Project Management issued by Duke University.
He is fluent in Azerbaijani, Turkish, English and Russian.
Cristina Akemi Shimoda
Advisor to the General Coordinator of Digital Transformation, Ministry of Science, Technology and Innovation, Brazil
Advisor of the General Coordinator of Digital Transformation of the Ministry of Science, Technology and Innovations, Senior Analyst of Science and Technology and Master's in Biomedical Engineering. She supports the formulation and implementation of the Brazilian Strategy for Digital Transformation (eDigital), the Brazilian Artificial Intelligence Strategy and the National Plan of Internet of Things, in the areas of Industry 4.0, Health 4.0, Agriculture 4.0, Smart Cities and Tourism 4.0, cybersecurity and advanced communications with main focus on the Digital Health initiatives. She also has experience in technological services – metrology, standardization, technical regulation and conformity assessment – dissemination of technological information, technological extension, partnership between research centers and companies and innovation management.
Dr Stelios Himonas
Permanent Secretary, Deputy Ministry of Research, Innovation and Digital Policy, Cyprus
Stelios Himonas is the Permanent Secretary of the Deputy Ministry of Research, Innovation and Digital Policy.
He previously served as Permanent Secretary of the Ministry of Energy, Commerce and Industry, Permanent Secretary of the Ministry of Justice and Public Order, as well as Director of the Department of Electronic Communications and Director of Telecommunications at the Ministry of Communications and Works.
From 2012 onwards, he has been appointed from the Council of Ministers as Digital Champion of the Republic of Cyprus, while having previously served as member of the Board of Directors of the Research and Innovation Foundation (then called Research Promotion Foundation), and the Cyprus Telecommunications Authority (Cyta).
At European level, he served as Vice-Chairman of the Electronic Communications Committee (ECC) of the European Conference of Postal and Telecommunications Administrations (CEPT), as well as Chairman of the Regulatory Affairs Working Group (WGRA) of the CEPT/ECC.
He is a holder of Bachelor of Engineering, Master of Science and PhD in Electrical Engineering from the State University of New York in Stony Brook. From 1989 until 1997, he was an Associate Professor at the Department of Electrical Engineering at the New York Institute of Technology, USA, having also served as a Professor of Engineering and Informatics of Intercollege, Cyprus. From 1994 until 1997, he was collaborating with the Multimedia Communications Research Group of Bellcore's Applied Research Division in Morristown, New Jersey, USA.
Dr. Himonas has published numerous research papers in scientific journals and conference proceedings in the fields of detection and multimedia communications. He is listed in the Who is Who in the World, Who is Who in American Education and Who is Who Among Human Services Professionals.
Kirsten Tisdale
Managing Partner, EY Canada
Kirsten Kirsten leads EY Canada's Government and Public Sector (GPS) practice and is passionate about enabling better government. Kirsten has also served as the firm's Global GPS Advisory Leader and drove solution development and investment strategy for our government practice in over 100 countries.
She has nearly 25 years of experience in advising governments across Canada and globally on designing and implementing complex transformation programs to drive better outcomes for citizens.
Kirsten is active in her community, as Chair of the BC Cancer Foundation and director for Smart Prosperity, a national green innovation research organization.
Paul Palmer
National Public Sector Technology Leader, EY Canada
Paul leads EY's Government and Public Sector Technology practice nationally and is a Partner in our consulting practice.
Paul has over 20 years of business and technical advisory experience and has implemented large, complex transformation projects across several industries. He has also been involved in a number of turn-around projects in Canada and internationally. His MBA thesis focused on the topic of failed projects and how to successfully recover.
He has acted as a trusted advisor to many public and private sector leadership teams providing challenge and support to project teams and decision makers on crucial transformation projects.
Active in his community, Paul is a Cabinet Member with the Royal Columbian Hospital Foundation.
Tuula Lybeck
Project Director, Development and Digitization Project of Discretionary Governmental Grants, Ministry of Finance, Finland
Tuula Lybeck leads the improving and digitization of discretionary government grants in Finland. Tuula has worked for more than 25 years as a civil servant of the Government in many different expert and management positions in the Ministry on Education and Culture and in the Ministry of Finance. Tuula has experience among other things in legislative drafting, state budget preparation and strategic policy planning. She has also been responsible official for religious freedom and ecclesiastical matters as well as copyright issues.
Master of Laws from the University of Lapland in 1995.
This year Finland ranked first in the European Union's digital performance comparison. The European Commission's annual Digital Economy and Society Index (DESI) monitors the digital performance of EU Member States and tracks their progress in digitalisation. Finland has been at the top of the list for several years, ranking number two in 2021 and number one in 2019 and 2020.
In a changing operating environment, the government's operational capability is enforced by utilising high-quality information in a diverse manner. Finland will develop foresight systematically, so as to quickly be able to form a reliable information base when needed. This means, for example, that Finland will open government data resources and we will link foresight more strongly to preparation and budgeting.
Discretionary government grants consist of public financing awarded on a discretionary basis from central government funds for the purpose of supporting activities or projects for tens of thousands of operators considered important to society. Discretionary government grants totalling almost EUR 4 billion are awarded each year in more than 300 calls for government grant applications.
The purpose is to get more information about the effectiveness of the use of government grants to support decision-making for the Government. The data resource of government grants will collect information from all administrative branches in order to open and utilize information about government grant activities, to evaluate effectiveness and to improve the monitoring of the use of government grants.
Wendell Brown
Delivery Lead, BDM, Federal and Central Canada, Fujitsu
Wendell Brown joined Fujitsu Canada as Team Fujitsu's Delivery Leader for the Benefits Delivery Modernization Programme in June 2020. In addition to this responsibility, Wendell is also responsible for overall Applications Delivery leadership of all of Fujitsu's Federal and Central Canada accounts. Prior to joining Fujitsu, he was on an Executive Interchange as an EX3 with Shared Services Canada (SSC) as SSC's lead on the Federal Science Technology Infrastructure Initiative (FSTII).
He has more than 30 years of experience in leading organisations that delivered digital transformation solutions in the medical IT, public sector and digital security industries.
Wendell is a Board member of the Royal College of Physicians and Surgeons, International (RCI).
Jim Garnier
Director, Federal Public Sector Canada, Fujitsu
Jim Garnier joined Fujitsu in 2015, as the Director responsible for business development and sales for the Canadian federal market. Over his 24-year career at Fujitsu Consulting, HP Enterprise Services, General Dynamics, and EDS in Canada, Jim has demonstrated success in working with clients, delivering high quality services, transforming sales approaches and strategies, and sustaining strong business relationships with industry accounts and partners. His expertise includes: key account development, consultative sales, business development, and strategic/tactical planning. He has successfully collaborated to develop broad strategic plans and objectives, driven the definition of the associated tactical action plans, and managed matrixed and multi-disciplined teams in the successful achievement of organizational goals.
Jim has an MBA from Windsor's Odette School of Business.
Asif Poonja
CTO – North America, Fujitsu
Asif Poonja is a Global Vice President with a focus on the Americas as its CTO and Head of Customer Markets.
Through the CTO function, Asif engages with partners and customers discussing business challenges and helping work through ways technology can provide viable solutions. Asif enjoys discussing the work Fujitsu carries out in the applications and managed services areas, aligned with Fujitsu's focus and leveraging the company's core technologies.
As a participant on global Fujitsu advisory boards, Asif leverages the best of Fujitsu to support business issues and help our customers thrive. Relentlessly customer-centric and as Head of Customer Markets, Asif builds credibility and trust with clients by ensuring clients are provided choice and flexibility and receive the highest quality solutions at the most efficient costs. He fuels a continuous improvement culture across his teams and drives deep, genuine and lasting client relationships.
Asif possesses more than 25 years of consulting, operational support and leadership experience. He holds a Bachelor of Math degree in Business and Information Systems from the University of Waterloo, and is a graduate of the highest Fujitsu executive management training program, the Executive Global Knowledge Institute Advanced Program and received highest-level Fujitsu accreditation for Incorporating Innovation, Design Thinking and Futurist Approaches to Business Success.
Asif resides in Toronto with his family
Christina Lang
Chief Executive Officer, Digital Service, Germany
Christina Lang is co-founder and CEO of the DigitalService, the internal digitalization unit of the Federal Government of Germany. Providing interdisciplinary product teams, the DigitalService builds user-centered digital public services together with the government. It also drives the digital transformation of public administration through the fellowships Tech4Germany and Work4Germany. In spring 2020, she initiated the #WirVsVirus hackathon of the German Government as a national, coordinated covid response effort. Before founding the DigitalService in 2019, Christina worked at the Federal Foreign Office and as a strategy consultant at McKinsey & Company. She is a trained lawyer and holds a Management degree from London Business School.
Magdalena Zadara
Head of Product, Digital Service, Germany
Magdalena works as Head of Product at the Digital Service. As a product designer by training, she combines user-centred design with her experience from software teams to develop digital solutions with and for government. Before joining the German Digital Service, she worked as a product manager and designer at a range of organisations, including a telemedicine start-up, corporate venture builder BCG Digital Ventures and digital agencies. She holds degrees from Central Saint Martins College of Art and Design and the Warsaw Academy of Fine Arts.
Kevin Cunnington
Former Director General, Government Digital Service (GDS), United Kingdom, and Expert Advisor, Global Government Forum
Kevin was Director General of the International Government Service and Digital Envoy for the UK from August 2019, until April 2021. Prior to that, he was the Director General of the Government Digital Service from August 2016 to July 2019. Kevin left the UK Civil Service in April 2021.
Kevin has led a variety of large scale, and global, digital transformation programmes. He spent his early career in programming and IT consultancy. More recently he was the Global Head of Online for Vodafone Group and Business Transformation Group Director General at the Department for Work and Pensions (DWP).
Kevin now advises Global Government Forum, and leads the Global Government Digital Leaders' Study. 
Andri Heiðar Kristinsson
Chief Executive Officer, Digital Iceland, Ministry of Finance and Economic Affairs, Iceland
Andri Heiðar Kristinsson is the CEO of Digital Iceland, a cross-functional unit within the Ministry of Finance and Economic Affairs, tasked with leading the digital transformation across the Icelandic government. Mr. Kristinsson is a product and technology visionary with over two decades of experience working in technology and entrepreneurship in Europe and Silicon Valley.
Prior to joining Digital Iceland, Andri was a product lead at LinkedIn in San Francisco and a product manager for SlideShare's mobile apps. Andri also served as the CEO of Travelade, a travel technology startup, as well as the founder and CEO of Icelandic Startups, the leading startup accelerator in Iceland. Andri holds a B.Sc. in electrical and computer engineering from the University of Iceland and an MBA from Stanford University.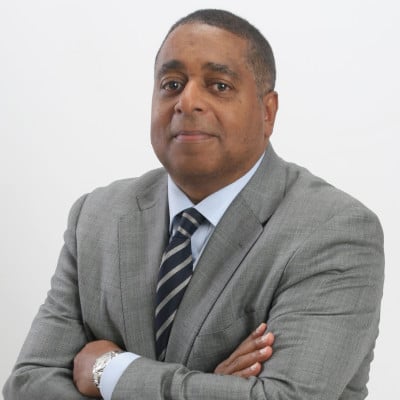 Dr Melvin Greer
Fellow and Chief Data Scientists for the Americas, Intel
Dr. Melvin Greer is Intel Fellow and Chief Data Scientist, Americas, Intel Corporation. He is
responsible for building Intel's data science platform through graph analytics, machine learning and cognitive computing to accelerate transformation of data into a strategic asset for Public Sector and commercial enterprises. His systems and software engineering experience has resulted in patented inventions in Cloud Computing, Synthetic Biology and IoT Bio-sensors for edge analytics. He functions as a principal investigator in advanced research studies, including Nanotechnology, Additive Manufacturing and Gamification. He significantly advances the body of knowledge in basic research and critical, highly advanced engineering and scientific disciplines. Dr. Greer is a member of the American Association for the Advancement of Science (AAAS) and serves on the Board of Directors, U.S. National Academy of Science, Engineering and Medicine. Dr. Greer has been appointed to Senior Advisor and Fellow at the FBI IT and Data Division. He is charged with acceleration of the FBI mission by supporting appropriate data collection, data analytics, discovery and visualization via advanced data science and AI techniques.
Dr. Greer is one of the 2018 LinkedIn Top 10 Voices in data science and analytics. He also received the Washington Exec inaugural Pinnacle Award as the 2018 Artificial Intelligence Executive of the Year. He received the 2017 BDPA Lifetime Achievement Award and the 2012 BEYA Technologist of the Year Award which recognize his outstanding technical contributions that have had a material impact and high value to society as a whole. Dr. Greer has been appointed Fellow of the National Cybersecurity Institute where he assists government, industry, military, and academic sectors meet the challenges in cyber security policy, technology and education. Dr. Greer is Professor, Master of Science in Data Science program at Southern Methodist University (SMU) and Adjunct Faculty, Advanced Academic Program at Johns Hopkins University, where he teaches the Masters of Science course "Practical Applications of Artificial Intelligence".
In addition to his professional and investment roles, he is Founder and Managing Director of the Greer Institute for Leadership and Innovation, focused on research and deployment of a 21st Century Leadership Model. Dr. Greer is a frequent speaker at conferences and universities and is an accomplished author; his fifth book "Practical Cloud Security a Cross Industry view" is his most recently published book.
Melvin is a Board of Director at National GEM Consortium where he oversees and aligns its strategic direction, educational policy, finances and operations with the mission of the Fellowship program.
As a popular educator and board member at a number of Historical Black Colleges and Universities, Dr. Greer is leading science, technology, mathematical and engineering (STEM)
research initiatives, directly trying to shape a more diverse generation of up-and-coming technical talent.
Àstrid Desset
Director General, Open Administration Consortium, Open Government of Catalonia (Spain)
Astrid is the Director General of the AOC (Open Administration of Catalonia), a public consortium integrated by local, departmental and regional administrations in Catalonia, whose mission is to accelerate the digital transformation in public sector, creating digital and interoperable common services and promoting the use of digital identity, electronic signatures and efficient exchange of data and documents.
She has a degree in Computer Engineering and a Postgraduate degree in Electronic Administration and Open Government. She believes in continuous training as a means of personal and professional growth. So, she is currently achieving a Master in Innovation and Digital Transformation at the Open University of Catalonia.
She spent her early career working in the ICT sector, starting as a salaried employee, then creating a small computer services company and, finally, developing eGovernment, Datawarehouse and Business Intelligence solutions in the public sector.
Alison Pritchard
Deputy National Statistician and Director General for Data Capability, Office for National Statistics, United Kingdom
Alison is leading the transformation in data usage which will see ever more integrated data put to effective and safe use across the private and public sectors. She ensures ONS has the right technology and skills to meet its ambitious goals in data analytics and data science and champions safe and secure data sharing for the public good in ONS and beyond.
Most recently Alison was Director General of the Government Digital Service leading the organisation through a busy and critical period. And before that, she was Director of Transformation at the Department for the Environment, Food and Rural Affairs.
She began her Civil Service career in 1987. She has worked across a range of departments including the Ministry of Defence, HM Treasury, Cabinet Office, Home Office and the Department for Culture, Media and Sport.
Her career has seen her enjoy a varied and interesting range of roles, including: spending five years in Saudi Arabia with a UK defence programme; leading the independent review of Royal Family and ministerial air travel; and being responsible for gambling and the National Lottery.
Outside government, Alison has experience as Head of Operations for an IT engineering business and on secondment to the third sector as Director of Programmes for a multi-faith research body supporting counter-radicalisation.
Mark Robinson
Director of Technology, Ministry of Justice, United Kingdom
Mark joined the Ministry of Justice Digital and Technology Team in late 2019 having spent the rest of his career in the private sector.  At the MoJ Mark leads a team of around 350, delivering intuitive workplace technology services to 85,000 users across 1000 sites.  As well as staff facing services, Mark's team are working to provision infrastructure and digital services to an increasing number of prisoners in their cells delivering operational efficiencies, increasing staff's positive engagement time with prisoners and young people by removing administrative activities, improving prisoner well-being and increasing prospects of rehabilitation and reducing reoffending.
Before joining the Civil Service Mark worked across a number of different sectors including Media and Transportation. 
At Cubic Transportation Systems Mark was Head of IT Infrastructure where he had responsibility for the platforms and systems that underpinned many of Transport for London's Payment Technology Systems such as Oyster, Contactless payments, and ticket machines and gates. 
At Red Bee Media Mark was responsible for the global IT infrastructure used to prepare, manage, broadcast, stream and distribute content for many of the best known media brands, including BBC, Channel 4, BT Sport, Disney, Canal+, TV4.
Mark has an Executive MBA from Henley Business School.
Megan Lee
Chief Strategy and Transformation Officer, Government Central Digital & Data Office, United Kingdom
Megan is the Chief Strategy & Transformation Officer in the Central Digital and Data Office, the head of the Digital, Data and Technology function for the UK Government. Within CDDO, Megan leads the Strategy and Analysis, Performance and Assurance and Transforming Government Services teams, putting the right conditions and capabilities in place to drive digital transformation at scale in Government.
Megan joined the Cabinet Office from McKinsey, where she led day-to-day management of consulting teams across both public sector and private sector organisations on technology, analytics and organisational transformation topics.
Gayan Peiris
Head of Data and Technology, Chief Digital Office, United Nations Development Programme
Gayan is the Head of Data and Technology with Chief Digital Office at UN Development Programme (UNDP). He leads the implementation of the Data Strategy for UNDP which includes driving the transformation of UNDP into a data-driven organisation and advising member states on their data, digital and cloud strategies. Gayan is an expert in bringing people's voices into policy making. He has experience in digital campaigning and led data collection and analysis efforts of several global initiatives such as UN75 and MYWorld which brought in over 10 million voices worldwide through both public and private sector partnerships.
Ann Dunkin
Chief Information Officer, Department of Energy, United States of America
Ann Dunkin is currently the Chief Information Officer of the US Department of Energy.  Before joining DOE she was Chief Strategy and Innovation Officer for State and Local Government at Dell.  Prior to joining Dell, Ms. Dunkin was the CIO for the County of Santa Clara. Ms. Dunkin also served in the Obama Administration as the Chief Information Officer of the United States Environmental Protection Agency and as Chief Technology Officer for the Palo Alto Unified School District. She also held a variety of leadership at Hewlett Packard.  Ms. Dunkin is a published author, most recently of the book Industrial Digital Transformation, and sought-after speaker on the topics of technology modernization, digital services and organizational transformation. Ms. Dunkin holds an M.S. and a B.S. in Industrial Engineering, both from the Georgia Institute of Technology. She is a licensed professional engineer in California and Washington.
Clare Martorana
Federal Chief Information Officer, Office of E-Government & Information Technology, Office of Management and Budget, Executive Office of the President, United States of America
Federal Chief Information Officer Office of Management and Budget Executive Office of the President Washington, D.C. Clare Martorana is an industry leader in deploying innovative technology and human-centered design to create products, services, and experiences that improve people's lives.
In March 2021, Clare was appointed by President Biden as the Federal Chief Information Officer. She previously served as Chief Information Officer of the U.S. Office of Personnel Management and a member of the U.S. Digital Service team at the U.S. Department of Veterans Affairs, launching the agency's enterprise-wide digital modernization effort to give Veterans the 21st century digital experience they deserve. Prior to joining government, Clare was a President at Everyday Health and Senior Vice President and General Manager and editor-at-large at WebMD.
Throughout her career, Clare has worked to improve and simplify the digital experiences people have when interacting with businesses – and knows the same is possible when our citizens interact with our government. As a creative leader and big thinker, she is leading government technologists and policy experts in meeting federal mandates while working collaboratively to deliver secure modern tools and services to our citizens. She looks forward to partnering with key stakeholders to maximize investments and deliver high-quality digital services to the American people.
Erica Vezeau
Director General,  Digital Academy, Innovation and Skills Development Branch, Canada School of Public Service, Canada