Digital Leaders Study 2023
Engaging departmental and elected leaders
Departmental leaders and ministers often lack the understanding and commitment to drive digital transformation
"If you don't understand digital, then you won't have a good sense of the possibilities of business transformation – because business transformation today is always digitally enabled." This national civil service leader, speaking at the Global Government Summit, clearly understood both the power and importance of digital technologies, and their own role in promoting the agenda.
They also recognised that plenty of national or departmental leaders lack that understanding. "In some cases, leaders don't have the digital savvy and digital literacy to drive digital transformation: it is a challenge," they commented. "Today's generation of senior leaders grew up in a completely different era. For many of us, this is a revolution that we are still trying to catch up with. But we have a responsibility to set ambitions; to put up problem statements for digital solutions to be found. We set the pace and, therefore, each of us in our governments must address this."
Throughout this report, we have touched on crucial aspects of digital in which action by national and departmental chiefs is a prerequisite for rapid progress. Their support, engagement and active leadership is essential to the production of effective digital strategies (see Finding 1); to building and strengthening cross-government management in fields such as data (Finding 2) and workforce (Finding 5); and to promoting important reforms in the financial rules governing capital investment (Finding 3), procurement (Finding 4) and digital salaries (Finding 6).
What's more, national and departmental leaders must be familiar with digital technologies if they are to manage the reform and development of their own organisations: a core part of their responsibilities. That doesn't mean they need technical skills; but it is essential that they understand the nature, requirements and potential of digital technologies, and get behind supportive reforms in fields such as project management and procurement.
We are a long way from that. Most civil service organisational leaders come from a policy background, and have spent decades developing skills, knowledge and working practices that fit awkwardly with the demands of digital technologies. They are also subject to pressures that mitigate against the successful harnessing of digital technologies: systems of financial accountability, for example, that make no provision for the pooling of resources and decision-making in cross-departmental programmes. Deep-rooted cultures of risk minimisation and departmental autonomy will take some shifting.
As one digital leader commented in our workshop on Vision and Planning: "We don't lack political will; that is really strong. But among civil service leaders, the notion of independence and wanting to run their own show has really been an issue." The answers, at least, are fairly clear: reforms to appointments processes and performance management to steadily shift the cohort's attitudes and priorities (see Solution 1); and better support and training to help them realise their new goals (see Solution 2).
Equally important to the digital agenda is the active backing of elected leaders – particularly those at the top of government (see Solution 3). Here, survey respondents in our People and Skills workshop were relatively positive: it's very important to have a minister with direct responsibility for digital government and the workforce, they said – and their own governments have largely addressed that need. In many cases, they believe, that has translated into a recognition of the importance of developing strong digital workforces (see graph I).
Graph I: Political leadership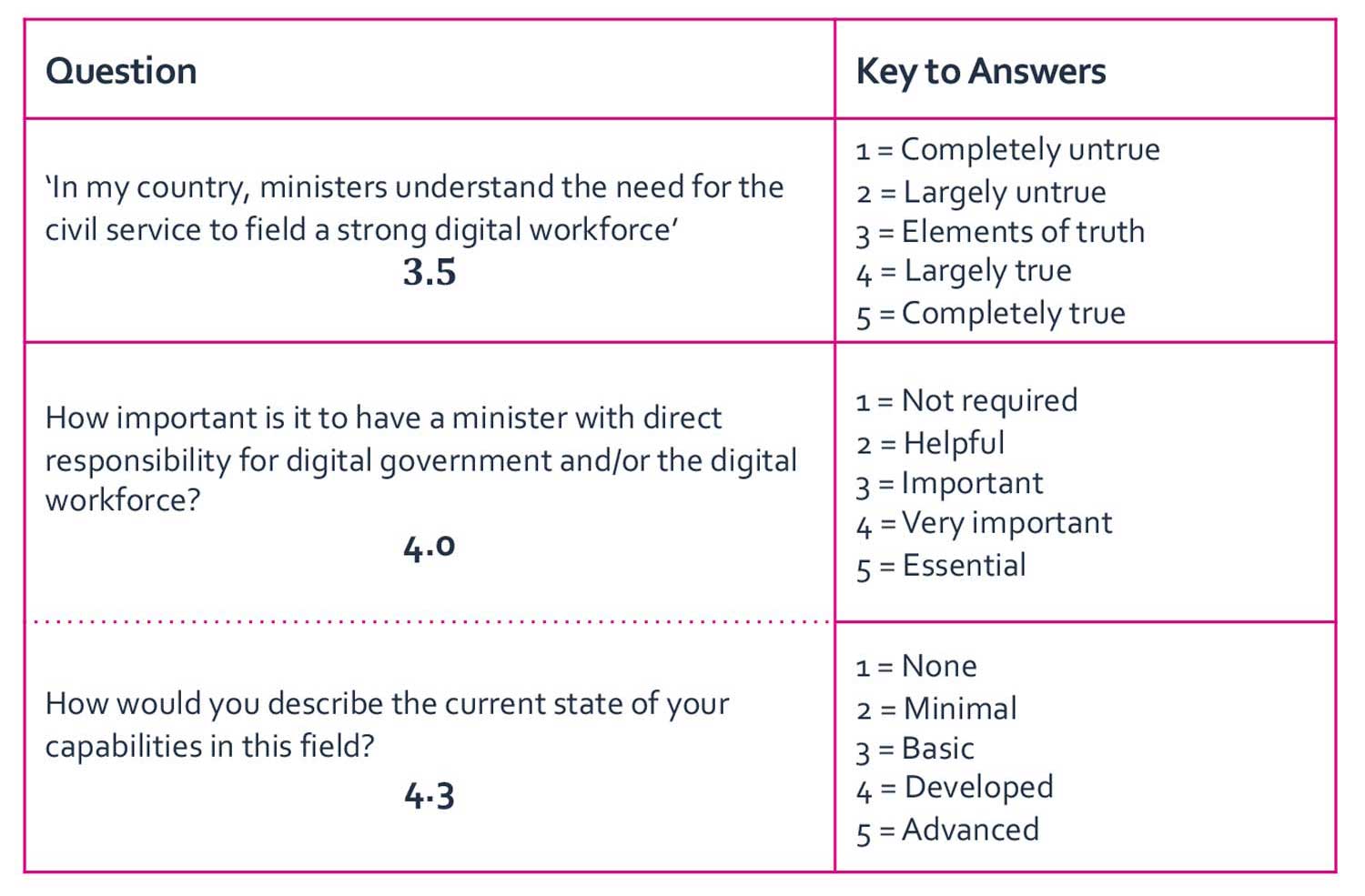 It is civil service skills and behaviours, though, that lie at the heart of this agenda – and positioning organisational leaders to take full advantage of the potential of digital will require action by national civil service leaders, as well as ministers: digital leaders have no remit or reach here. There are signs of progress here among leading digital nations; and we can expect to see wider action as the logic and importance of this agenda becomes ever clearer.
Increasingly, the generalists running most government departments will have to show that they've got their head around digital technologies, and understand how best to apply and promote them. And perhaps, one day soon, we'll see a department led not by a policymaker who's got a grip of digital, but by a technologist who's developed a generalist's skills in people management, leadership and policy. In the words of Alison Pritchard, the UK's Deputy National Statistician for Data Capability and a former head of the country's Government Digital Service (GDS): "The moment when we see the first permanent secretary who's come through the digital and data technology profession will be very powerful."
1/ Reform appointment and performance management systems to select and incentivise the right behaviours
The digital skills required among organisational leaders "are not inherent, and haven't necessarily been built or rewarded in terms of how people got to those leadership positions," commented one participant at the 2022 Government Digital Summit. In many countries, the most direct route up the greasy pole runs via graduate recruitment programmes, ministerial private offices and policy roles. Civil servants advance by demonstrating their expertise in stakeholder management, policy development and advising ministers – all essential skills, but not in themselves sufficient for the demands of organisational change and leadership in the digital era.
So today's leaders have typically got to the top by serving their minister and strengthening their organisation's remit and influence across government, winning battles in the endless, behind-the-scenes tussles between departments; yet digital technologies require chief executives to work closely together, sharing risk, resources, decision-making and service delivery. They've worked hard to build a reputation as a 'safe pair of hands' by avoiding media attention and maintaining service continuity; yet if they're to equip their departments to meet the public's needs and deliver for ministers, they'll need to rebuild business processes and push through organisational reforms. They have, in short, been selected for a set of capabilities and behaviours that leave them ill-equipped to lead digital transformation.
To develop the next generation of organisational leaders, recruitment and promotion processes should evolve to select people with the vision, ambition, experience and skills to push through digital transformations – recognising that in a rapidly-evolving world, the capabilities needed to serve elected leaders and the public are also changing quickly. This must start at the bottom, with changes to graduate training programmes and the accelerated development schemes provided for high-potential individuals. The UK's introduction of a Digital Fast Stream graduate programme represents one way into this challenge, but reforms are required across governments' selection and appointment processes to embed digital capabilities into every civil servants' route to the top.
Equally, performance management systems must evolve to point serving organisational leaders towards today's challenges and priorities, and to incentivise the partnership working so integral to digital transformation. New Zealand has done interesting work here, rolling out a civil service reform programme designed to create a more collegiate, collaborative leadership cadre. As Hannah Cameron, Deputy Commissioner in the country's Public Service Commission, explained at the 2020 Global Government Summit, the aim is to develop leaders suited to a "more ambiguous, organic world which requires an emotional, human, cultural response."
Under the Public Service Act 2020, Cameron told GGF in a 2022 interview, a public service leadership team was established bringing together the 36 central agencies' chief executives. Their performance expectations, she explained, now include the tasks "they've got to do in their agency, but also a whole lot of stuff around how they need to work in the system, the behaviours that are expected of them, and how they deliver to some of those system goals".
Furthermore, agency chiefs now have a "stewardship" responsibility to consider over-arching policy objectives: the Act requires them to produce regular cross-departmental briefings on key topics, ensuring that the government keeps working towards long-term goals amidst the press of urgent priorities. And to pursue cross-government public service reform agendas such as those around digital, property and procurement, Cameron said, individual chief executives are "given by the commissioner responsibility for a cross-cutting issue" – taking on the task of leading development work.
Such reforms adjust the pressures on organisational leaders and present them with a new road to career success, reconciling the needs of digital technologies with the traditional skills and practices of good governance. Introduced alongside changes to appointment and selection processes, they are an essential element of work to build a leadership cadre with the skills required in today's world. As Leo Yip, Head, Civil Service of Singapore, said at the 2022 Government Digital Summit: "You cannot drive digital transformation with digitally illiterate senior leaders."
2/ Ensure that organisational leaders benefit from digital training and coaching
To help serving organisational leaders get to grips with digital transformation, it's important to provide bespoke training – equipping them with the skills needed to shape and supervise digital strategies and programmes, and fostering the behaviours required to collaborate on interdepartmental project delivery and cross-government reform agendas. In the words of Alison Pritchard, the UK's Deputy National Statistician for Data Capability and a former head of the country's Government Digital Service (GDS), a key priority for organisational leaders is to "understand the questions they should be asking of their digital folk."
Digital academies can be well-placed to assist here, providing dedicated training courses (see Finding 5, Solution 3). Estonia for example has long put agency chiefs through courses on digital technologies and innovation, and the UK is now catching up: the Central Digital and Data Office is developing a Digital Excellence Programme for senior leaders, and since 2021 the Office for National Statistics has been providing a three-week Data Masterclass for public sector executives. 
It's also important to provide coaching and mentoring for organisational leaders as they embark on digitally-enabled transformation programmes and participate in cross-government reforms. These are complex, difficult projects, and it's always helpful along the way to tap into the experience and perspectives of people who've met and overcome similar challenges. As one participant noted at the Government Digital Summit, chief executives almost always benefit from "on-demand coaching: a safe place for leaders to turn, to help them lead these big programmes."
3/ Appoint an influential minister for digital
Look at the most advanced digital governments in the world, and they have something in common: a track record of ambitious, far-sighted political leaders who take a direct interest in the digital agenda, investing in infrastructure and capabilities. This cannot easily be replicated – but there are ways to build political leadership into the system.
A quarter of a century ago, when the prime minister of Estonia funded the development of a microchip-equipped national ID card, it was a brave decision taken without an obvious use case. "At the beginning, nobody knew what you could do with ID cards," Estonia's former State Secretary Heiki Loot told GGF in 2018. "There were no digital services, and many said that it was a waste of money. But it created the infrastructure for the development of e-services." The lesson for politicians and civil servants, he added, is that "it's important to have a government with the courage to make those kind of decisions. When taking a risk, you don't know if it will have a positive effect or fail. And not all governments or civil servants are willing to take risks".
Few civil services are lucky enough to be led by heads of government with a close interest in digital – but many national leaders have appointed a dedicated minister for digital, giving the agenda a champion at the Cabinet table. Shahar Bracha, CEO of Israel's Government IT Authority from 2019 to 2022, told GGF in 2021 how helpful he'd found the appointment of David Amsalem – a senior minister who also served as the government's liaison with Israel's legislature – to lead a new Digital Affairs Ministry in 2020.
Promoting cross-government progress on digital issues "is much easier when you have a minister with such political strength within the cabinet," said Bracha. "Say a director in a different ministry doesn't want to play along: you have a minister whose job is to bring in support, to bring partnerships with rogue ministries." Sadly, the Digital Affairs Ministry was abolished shortly after our interview, a victim of Israel's political turbulence – and an illustration of how political considerations so often disrupt progress on digital.
As an alternative to establishing a dedicated ministry, ministers for digital can be appointed at the heart of government or in the finance department. With the support of then-prime minister David Cameron, for example, during 2010-15 Minister for the Cabinet Office Francis Maude made rapid progress on digital – blazing a trail that many other countries have since followed. Alternatively, having a minister in the finance ministry can be very helpful in helping to secure capital investment, guide budget decision-making, and reform financial systems such as those governing spending approvals or procurement.
Wherever the minister sits, they'll need control of central digital policy and delivery teams, and ways to track progress among departments and agencies across government. In Singapore these capabilities are supplied via the Smart Nation and Digital Government Group, which includes the SNDC Office – covering policy and governance – and the Government Technology Agency, a delivery body that assists departments and provides shared platforms. The SNDG Group reports directly to the Prime Minister's Office as well as an inter-ministerial committee, giving it both the authority of the national elected leader and the reach across government that's so helpful to digital transformation. 
With a committed, influential minister for digital, civil servants will find it much easier to make progress; for officials can only make ambitious and brave decisions when they have the backing of elected leaders, and elected leaders find it easier to be ambitious and brave when they are senior within the government.
Here, Estonia is lucky: explaining its position as a world-leading digital nation, the government's former CIO Siim Sikkut told GGF in 2022 that his country has a "community that understands that if you try something in earnest and fail – as opposed to failing because of ignorance or misdeeds or whatever – then that's okay. I've never felt in my job that if I failed, something bad would happen".
Estonia has benefited from a series of political and civil service leaders with "open mindsets and a taste for experimentation", he said, during whose tenures digital specialists could press forward. Sikkut has, he recalled, served "seven ministers and three prime ministers; none of them have been afraid to fail". Indeed, the PM who appointed him CIO told him: "Don't be afraid to make mistakes, as long as you've tried to avoid them". It's helpful, he added, that Estonia's political opposition and media tend to take a constructive line: "The bloodier that game, the more the disincentive against changing things," he commented.
So countries with a mature and intelligent political culture will always find it easier to move forward than those where politicians and journalists will use any opportunity to damage the government. This, of course, is not within the power of digital professionals – but there is a clear takeaway from our research: countries make much better progress on digital when the agenda is led by a powerful minister.
---
Contents: find solutions for your problems