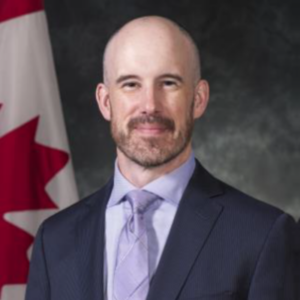 We look forward to welcoming digital leaders from across the world, including from Germany, the USA, Brazil, Azerbaijan, Iceland, and the UK, to speak at AccelerateGOV here in Ottawa.  
I'm so excited to host such an influential group of experts in Ottawa. These digital leaders will be sharing insights at the AccelerateGOV conference, providing a wonderful opportunity for public servants to discover how public service leaders around the world are realizing the potential of digital – and addressing the challenges we face in common. I encourage all public servants to register for this fascinating conference.
Stephen Burt, Chief Data Officer, Government of Canada
Agenda
Bringing together public service leaders from around the world, AccelerateGov explores how public servants in all relevant disciplines and roles can best promote digitalization and transformation
Agenda 2022
5 October
All times provided are local (Ottawa, EST)
The Role of Digital and Data in Policymaking
Assembling and analysing the evidence to inform decision-making, data professionals can play an important part in policy development. And digital specialists too have a crucial role: contemporary 'Agile' project management techniques gather detailed information on service users' behaviour, which – given a flexible, iterative approach to policymaking – can be fed back into service design. This session will consider how best to integrate digital and data professionals' work into the policymaking process.
Panel discussion followed by audience Q&A
Speakers:

Knowledge Partner
Deploying AI in Government
Artificial intelligence can strengthen service delivery and cut costs in the public sector, but the emerging technology also presents a unique set of risks and challenges. If fed the wrong 'training data', for example, AI systems can 'learn' to show prejudice against some groups; and as algorithms evolve, their operation can become opaque – undermining transparency and accountability. Serving policy, statistics, legal, commercial and operational delivery staff as well as digital and data specialists, this session will cover AI topics such as the potential applications, the development of in-house skills, how to avoid discriminatory outcomes, and the emergence of ethical AI frameworks.
Panel discussion followed by audience Q&A
Speaker(s):
Knowledge Partner
12:00 – 12:50

Breakout
Sessions
PROJECT MANAGEMENT AND FUNDING IN A DIGITAL AGE
In many governments, systems of business planning, spending approval, risk management, procurement and project governance are ill-suited to the needs of digital technologies: they may, for example, be too rigid to permit the use of 'Agile' project methodologies, mitigate against buying from small businesses, or present barriers to cross-government collaboration. Serving commercial and finance staff as well as digital and data professionals, this session will explore ways to promote digital transformation whilst safeguarding prudence and probity in the use of taxpayers' money.
Panel discussion followed by audience Q&A
Speakers:
.
Sessions Held in parallel
.
BUILDING TRUST IN DIGITAL IDentity verification
Many of the benefits of digital transformation depend on public bodies sharing an ability to identify individual citizens and businesses – enabling them to coordinate their work and provide a single point of access to public services. This in turn requires a common, trusted and widely-adopted approach to verifying identity and other information; but creating this capability is a complex task. To win users, digital ID systems must show clear benefits for public servants across a range of professions – at the national, regional and local levels – as well as citizens, businesses and third sector bodies, while addressing concerns around security, privacy, accessibility and interoperability. Considering solutions including Canada's digital credentials system, this session will focus on how best to meet the varied needs of individuals, disciplines and organisations, unlocking the full potential of digital transformation.
Panel discussion followed by audience Q&A
Speaker(s):
Knowledge Partner
12:50 – 14:00
.
.
13:00-13:20
Confederation Ballroom II
.
.
.
.
.
.
.
.
13:30 – 13:50
Confederation Ballroom II
Lunch
.
sessions held over lunch (invite only)
.
Building digital trust in government services
Supported by Interac
Digital verification solutions are crucial building blocks for public services both now and in the future. From applying for benefits to booking healthcare appointments online, they can help improve citizen experience. As governments and private organizations around the world navigate the transition to digital service delivery, it is critical to build trust and explain how these verification solutions can provide simple and secure access to services while also protecting data and privacy.
This impact session from Interac will explore how digital trust, through collaboration, transparency, and openness, can help create seamless and effective public services.
---
People power: Putting humans at the centre of digital transformation
Supported by Qualtrics
Digital transformation provides a unique opportunity for governments to improve the quality of public services through human-centred design at scale.
But how can departments and agencies be sure they are getting transformation right for citizens? Traditional waterfall design processes can leave citizens out of the loop and – while agile development creates the potential for more citizen engagement – the sheer scale of data available to governments can make it seem daunting to do.
However, it is possible to use structured and unstructured data sources available to government to make transformation projects work for people – and this AccelerateGOV impact session with Qualtrics will demonstrate how.
In this session, Qualtrics will show how it has helped governments around the globe sense citizen sentiment of key public services. Find out how public bodies in Canada, the United Kingdom, and Australia were able to follow the pulse of public opinion – and how to use this feedback to inform and adjust digital transformation projects so they work for everyone.
TURNING DATA INTO INSIGHTS AND ACTIONS
Governments today can access huge volumes of data generated by public, private and voluntary bodies; and this can be used to improve decision-making, service delivery and the tools available to public servants. But to fulfil that potential, public service leaders need both advanced data skills and systems, and the ideas and support of staff across the workforce. Drawing on Canada's Public Sector Data Challenge program, this session will explore how governments can tap into the expertise and experience of their workforces to realise the opportunities around better use of data.
Panel discussion followed by audience Q&A
Speakers:
Knowledge Partner
Across the boundaries: building interdisciplinary, cross-departmental teams
Many digital programs require that public bodies manage projects in partnership, building cross-departmental teams involving specialists from a range of disciplines. This demands a particular set of management and technical skills, addressing topics such as team formation, goal-setting, project design and shared service delivery. Aimed at public servants working in key fields such as finance, HR, project management and operational delivery as well as digital, this session will explore the management skills and techniques required to make a success of cross-departmental projects.
Panel discussion followed by audience Q&A
Speakers:
Knowledge Partner